Accuranker is one of the more popular rank trackers within the professional SEO community. Lots of agencies and in-house SEOs that I know swear by it. 
The interface is broken into a series of screens, each with varying levels of configurability, and complexity. 
The table views are configurable in that they allow you to select which columns show, but are not able to be re-ordered. Filters can be applied and saved as new segments, which can then be applied across most screens and reports. This is how you'll create keyword groups based on data points (such as: keywords that rank 8-20, etc). 
Accuranker feels like a premium product, and it has the price tag to match. I would not recommend Accuranker for most people. This product feels like it would be really good for an agency who needs sub accounts and robust reporting capabilities. 
---
This review is part of a buyers guide
For the full experience, view the rest of the rank tracker reviews.
---
Pros 
Great design and attention to detail 
Good reporting and notifications
Configurable, and filterable 
Really good tutorials
Cons
Quite expensive 
Some unremovable metrics aren't very actionable (share of voice, traffic value)
No way to cancel/remove account without contacting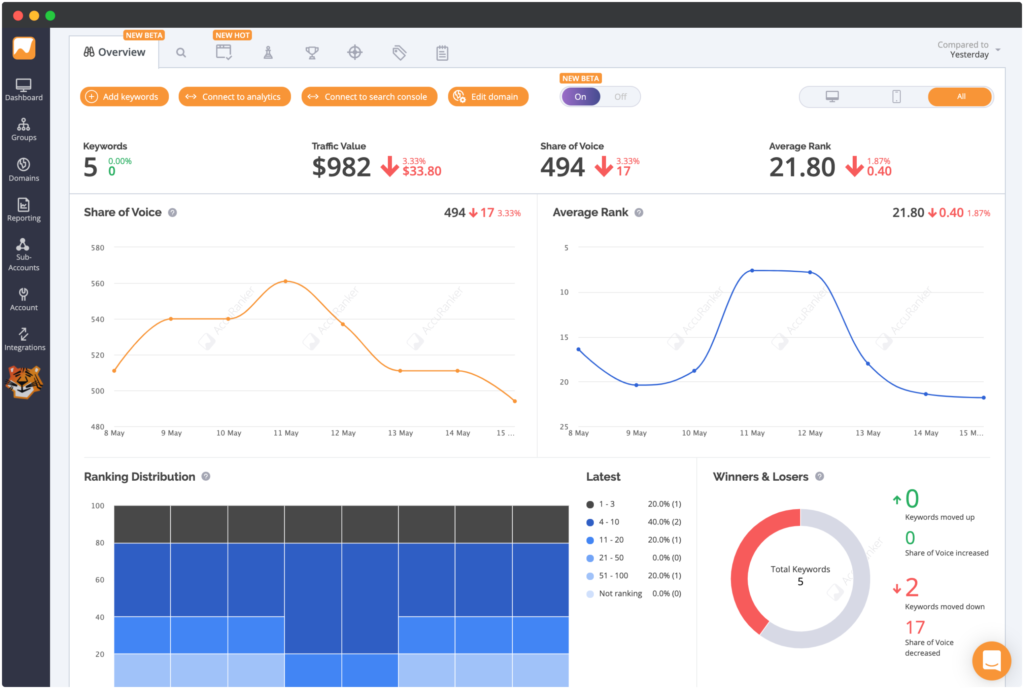 Which search engines are supported? 
Google, Bing, Baidu, Yandex, Youtube
What's the price? 
Accuranker starts at $109 per month for 1,000 keywords. 
Unique Features
The share of voice metric look at all rankings where your site is currently between positions 1-20. Then it takes the generic CTR of those positions and multiplies them by the monthly search volume for each keyword. 
Example: 30% (CTR for rank 1) * 1,000 (search volume) = 300 share of voice. 
I'm not a huge fan of metrics like these, but I do like that Accuranker allows you to ignore certain keyword sets from the SoV metrics, which seems to help make it more usable.