Nightwatch isn't like most other rank tracking tools — it's more of a data visualization suite with some sensible defaults for rank tracking.  Pretty much everything you see is configurable, and that's because for the most part, you're just looking at pre-created reports.  
The product shots on the marketing pages show robust dashboards populated with a multitude of traffic, rankings, and backlink data, sliced several ways.  
So while you can connect Nightwatch to Google Analytics, and Google Search Console, I didn't. For my own purposes, I'm really only worried about rankings. Across the industry, ranking visualizations are primarily limited to a table, and a graph. The graph is for the trend, and the table is for the detail.  
On the rank tracking side, there are two types of reports: keywords and graphs.  
Keyword Reports
Some of my recommended keyword views for Nightwatch:  
Position for knowledge panel + is present 
Position for featured snippet + is present 
Search engine + is + [Google, Bing, Yahoo, Youtube, etc] 
Ranking Full URL + contains + [blog, product, review, etc] 
Keyword + contains + [brand name] 
Keyword tag + is + [custom tag] – I use this to identify content I've made a change to that I'm currently testing. For example, this could be all queries that I'm targeting that I have added a video to the ranking page. 
If you have any that you're finding useful, please share them with me (and let me know if I can share them here). 
It's clear that the team behind Nightwatch cares about UI and UX. Out of all of the tools I've tested, this is probably the cleanest, and most intuitive to use. I also really enjoy the dark color scheme.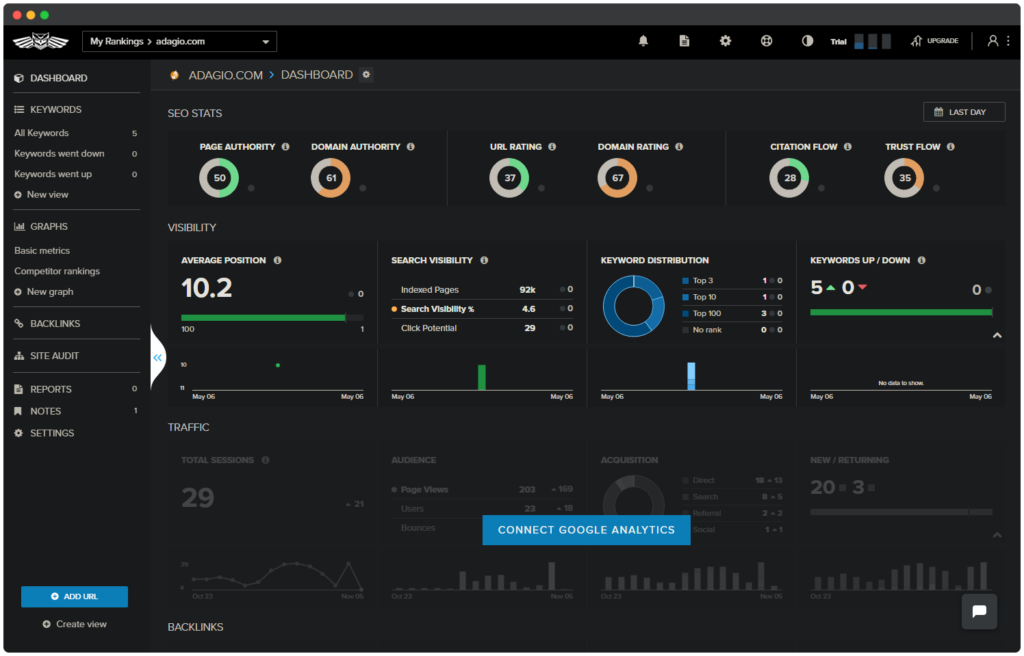 Nightwatch has multiple data sources integrated into the dashboard:  
From Moz:  
Page Authority 
Domain Authority 
From Ahrefs:  
From Majestic:  
There's a set of core visibility metrics on the dashboard to help you ascertain what's going on.  As with any rank tracker, the devil is in the details. Let's take a look at exactly what they mean.  
---
This review is part of a buyers guide
For the full experience, view the rest of the rank tracker reviews.
---
Average Position – Exactly what it sounds like, this is the sum of all rankings divided by the number of keywords you're tracking. It can be a bit of a noisy metric, and not one that I really pay much attention to. Having a good score is often due to only tracking keywords we already rank well for — so expect to have a bad average position if you're constantly adding new targets in need of improvement.  
A word on average position metrics
You can avoid the above critique on average position metrics by segmenting your keywords. Most of what I'm looking for with a rank tracking tool is solid segmenting capabilities, and one benefit is that this brings back the usefulness of average position metrics. We can create segments of mature keywords: branded, pillar content, etc that shouldn't be in flux too often. Said another way, we can carve out the noise and hold a small canary group that lets us know when something actionable might have happened.  
Search Visibility – This group of metrics includes three categories:  
Indexed pages 
Search visibility % – Nightwatch assigns a 100% score to position #1, with the rest of the ranks being proportional to their average CTR values (below). This is a confusing metric, but it's supposed to give you an at-a-glance view of how visible your site is. 
Click potential – How many clicks you'll get at the current rankings based on the following CTR estimates: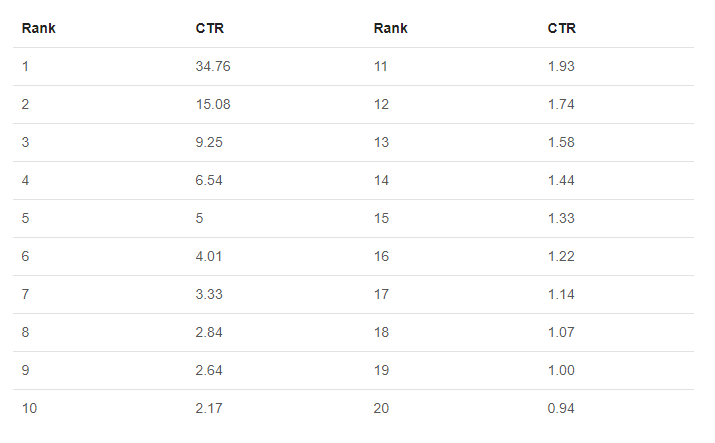 Keyword Distribution – Shows the amount of keywords that rank within four different buckets: top 3, top 10, top 100, and no rank. Again, this is another metric that could be easily skewed to look less than impressive if you were being aggressive about how many new keywords you were adding into this system.  
You can expand and collapse the graphs at the bottom, too.  

The dashboard also has sections for traffic (if you connect to Google Analytics), and backlinks, both of which I didn't use. As I mentioned in the overview, I'm using a rank tracker for very specific reasons and I've got other tools that can do these things for me.  
Keyword View
Most of your time will be spent in the keyword view. The boxes up top contain the same information as the dashboard, but in a condensed space.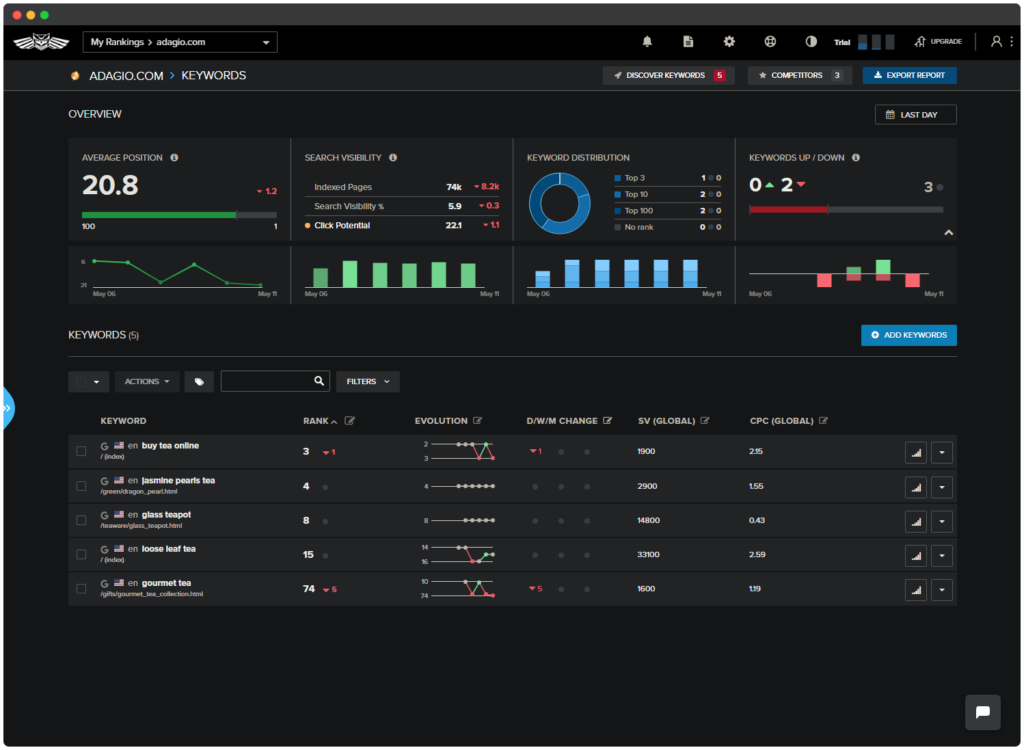 There are 3 keyword views created by default: All Keywords, Keywords went down, and Keywords went up.  
I also signed up for  https://ranktrackr.com/, but upon attempting to log in I was told that I already have an account. I reset the password and the email came from Nightwatch.io — so they're running more than one brand for the same back end. Additionally, the Delaware address is for a popular online Delaware registered agent (I've even used it in the past).  
Based on this IndieHackers interview with one of the founders, this is a previous version of the Nightwatch product:  
" Nightwatch is actually a successor to our previous tool, RankTrackr, which we started a little over five years ago." 
Pros 
It's attractive, intuitive, and reliable.
Best in class configurable filters and views.
Feels very configurable, yet simple to use. 
Good selection of search engines (would like to see Amazon, though) 
Best in class privacy features
Cons 
No way to remove non-used features from dashboard. 
Does not have Amazon, App Store  
Which search engines are supported? 
Google, Bing, Baidu, Yandex, Youtube
What's the price? 
Nightwatch personal plan subscriptions start at $19 per month for 100 keywords checked daily.  
Unique Features
Nightwatch offers a weekly "Discover Keywords" report. The table also includes your current ranking position, location, and search volume, which is actually pretty helpful. I don't typically add from this list, but I do take a look at it and go, "huh, interesting," and I feel better informed for it.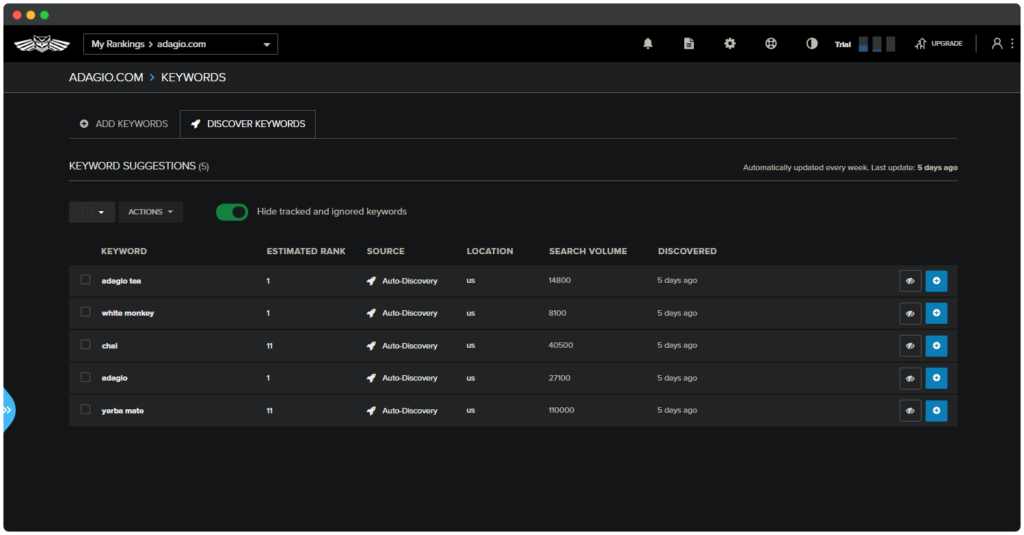 I want to mention that Nightwatch is also the best example I found for respecting your privacy. In the settings you can configure certain data tracking services. This is outstanding, and I wish all other products would do the same.