Rank Ranger is a service that does pretty much everything you'd expect it to. Somehow, they're able to integrate a ton of different services and reports without making SEO feel like an afterthought.
I didn't test out any of the SEM, or social, or other integrations, as my needs are still just for rank tracking. 
To get the most out of Rank Ranger you need to be creating custom graphs, widgets, and reports, most of which I can't be bothered with. 
It seems like a good product, but there are simpler, and more actionable platforms that require fewer clicks, and have optimized interfaces (AWR and Nightwatch) that ask for less per month in subscription fees. The problem is there isn't anything unique here, and that means nothing to help it stand out amongst the crowd.
It's solid, but to a fault.
---
This review is part of a buyers guide
For the full experience, view the rest of the rank tracker reviews.
---
Pros 
Lots of integrations for other channels outside of SEO 
Many specific Google Serps (hotel packs, jobs, etc) 
iTunes and Google Play tracking
Robust reporting
Cons
Complex, non-intuitive interface
Lack of great tutorials
Confusing, non-standard campaign oriented flow
No way to delete trial account without contacting support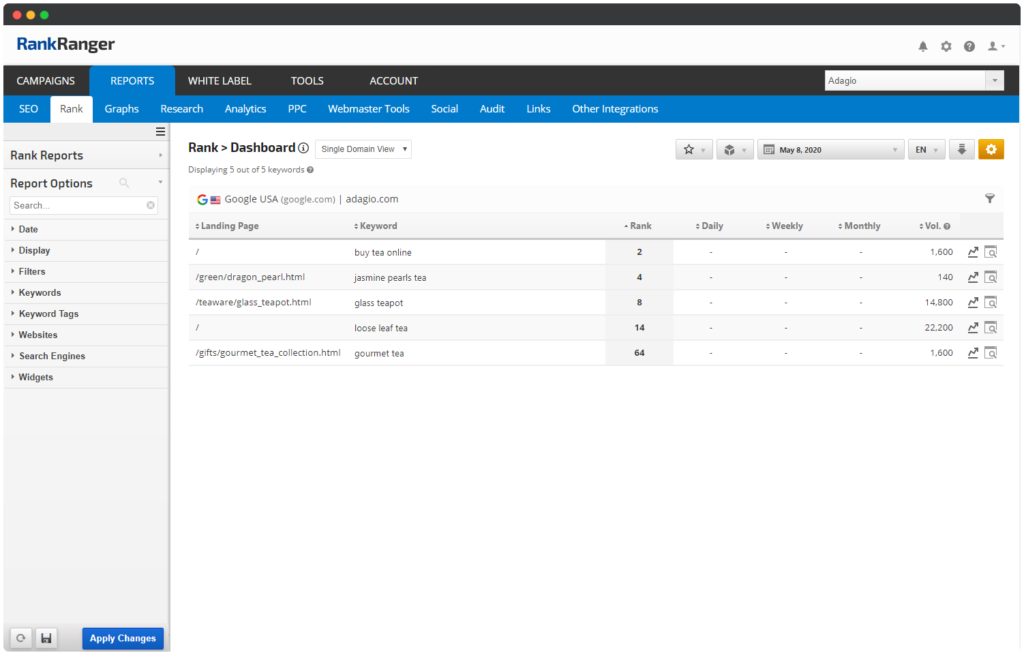 Which search engines are supported? 
Google, Google Play, Yahoo, iTunes, Bing, Yandex, Youtube
What's the price? 
Rank Ranger starts at $69 per month for 350 keywords tracked daily. 
Rank Fluctuations and Behavior – You can see a series of metrics: 
Stable keywords
Unstable keywords
Improving keywords
Declining keywords
Cannibalization (which keywords have multiple pages ranking) 
Opportunities / At Risk (falling out of, or entering top 10)