seoClarity is an entire suite of tools used by many of my agency contacts. After the first version of this rank tracking buyers guide went up, they reached out and gave me a trial account that included their rank intelligence tool. 
From the training videos, it seems like the tool is not really meant to be used in isolation, with several of the other tools feeding into and surfacing data and insights from it — but this is just my suspicion — I didn't test the full suite. 
The platform requires a bit of training in order to understand. For example, here's the dashboard: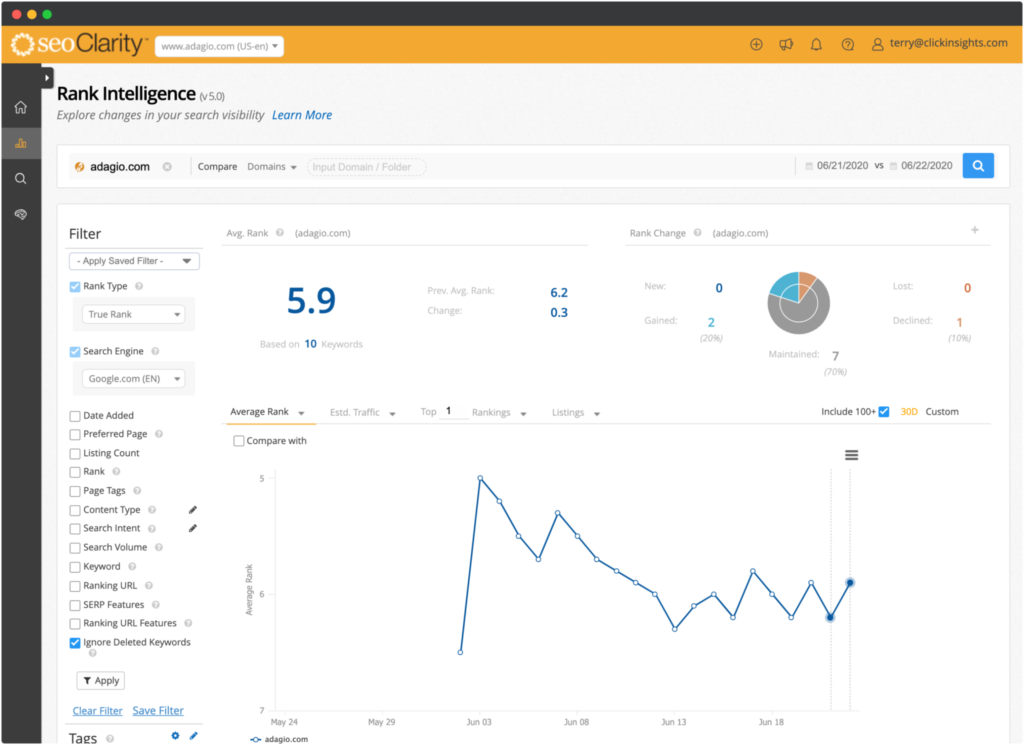 There are some visualizations that you're probably used to, but several that you aren't. 
If you look at the left hand side, you'll see that there are significant filtering capabilities. You can save your filters for later, and add additional dashboard configurations. 
For filters, you can filter by: 
Rank type – You can select between True Rank (includes SERP features) and Web Rank (standard 10 blue links). 
Search Engine – Google, or Google Mobile
Date Added
Preferred Page 
Listing Count
Rank
Page Tags
Content Type
Search Intent – These are not an attempt to figure out query intent (navigational, informational, etc) — this is a way to match keyword patterns to attribute your own, self-defined intent. i.e. brand queries, support queries, etc
Search Volume
Keyword
Ranking URL
SERP Features
Ranking URL Features – Price schema, FAQ schema, Stock schema, or Star ratings. 
You can add in site sections and domains to compare to. 
The reports also feature a series of tabs, which help to slice data into meaningful segments: pages, folders, subdomains, top competitors, and tags. 
There's also a weighted average rank metric that takes your average rank and factors in search volume, in order to measure overall impact.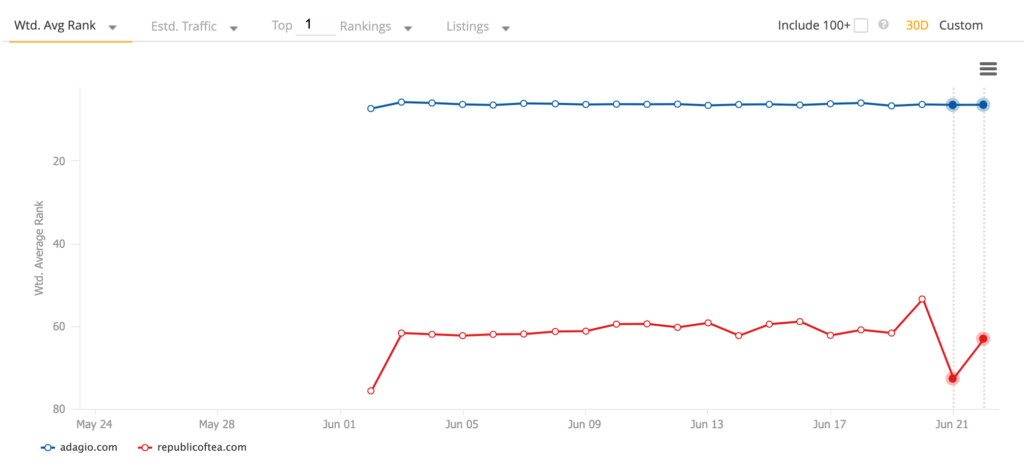 Pros
Great filtering capabilities
Great competitor analysis 
Cons
Expensive for freelance or independent SEOs
Robust minimum requirements (5k keywords) 
---
This review is part of a buyers guide
For the full experience, view the rest of the rank tracker reviews.
---
Which search engines are supported? 
Google, Google Mobile
What's the price? 
seoClarity starts at $750 per month for 5,000 keywords tracked daily.